As digitalisation in maternity care gathers pace, interest in maternity electronic health records (EHR) and the ways they enhance care provision is accelerating. Digital maternity records improve quality of care, facilitate better cross-discipline collaboration, include pregnant women in their care, and demystify pregnancy care provision.
In this article, we explore the opportunities and discuss how maternity electronic health records like Omda iPana Maternity help healthcare providers deliver safer and more inclusive maternity care.
Instant access to maternity data
In maternity, electronic health records play a significant role in connecting the various aspects of care. Historically, maternity data has been fragmented and disjointed. Pregnant women interact with multiple points of care, in several different environments (e.g. the clinic, hospital, local surgery). But data sharing between these points of care is often inadequate.
One of the primary consequences of a poorly connected care system is that healthcare professionals work with an incomplete picture of the woman's condition and the care they have received. Limited data sharing also reduces the speed of care delivery, as doctors, nurses and midwives must utilise less efficient means of communication to request and receive the information they need.
By centralising patient data in maternity personal health records, healthcare organisations create a single point of truth that is available to all care providers. This record is always up-to-date and as accurate as the collected data allows. Omda iPana Maternity is an excellent example. The portal, iPana Maternity, is associated with the woman's dedicated maternity card and digital record. As a result, they can visit different healthcare settings and know that the specialist they see will have access to all relevant health data. In complex maternity systems, this improved connectivity is transformative.
Home monitoring and a more comprehensive picture of care
Maternity personal health records can be supplemented by home monitoring technologies and processes to provide greater insight into the expectant mother's condition and progression through pregnancy. Healthcare providers can also integrate data reporting into a virtual maternity care portal, such as iPana Maternity, that enables women to input results remotely. This enhances maternity care in several ways.
First, it fills in the gaps in maternity monitoring. As healthcare providers work with limited resources, an expectant mother interacts with maternity services intermittently. If everything is progressing well, there are fewer appointments to attend. If there are possible complications, an expectant mother will see the maternity team more regularly. However, the periods in between these appointments are data voids.
By facilitating home monitoring, Omda iPana Maternity enables maternity departments to fill these empty spaces with valuable patient data that can help them identify issues sooner and make earlier, more effective interventions. This results in reduced risk for the pregnant woman and her baby.
Second, home monitoring involves women more closely in their maternity care. By empowering individuals to participate in their pregnancy care provision, maternity teams take important steps towards a more inclusive approach and begin to tackle issues of powerlessness and alienation that some women experience.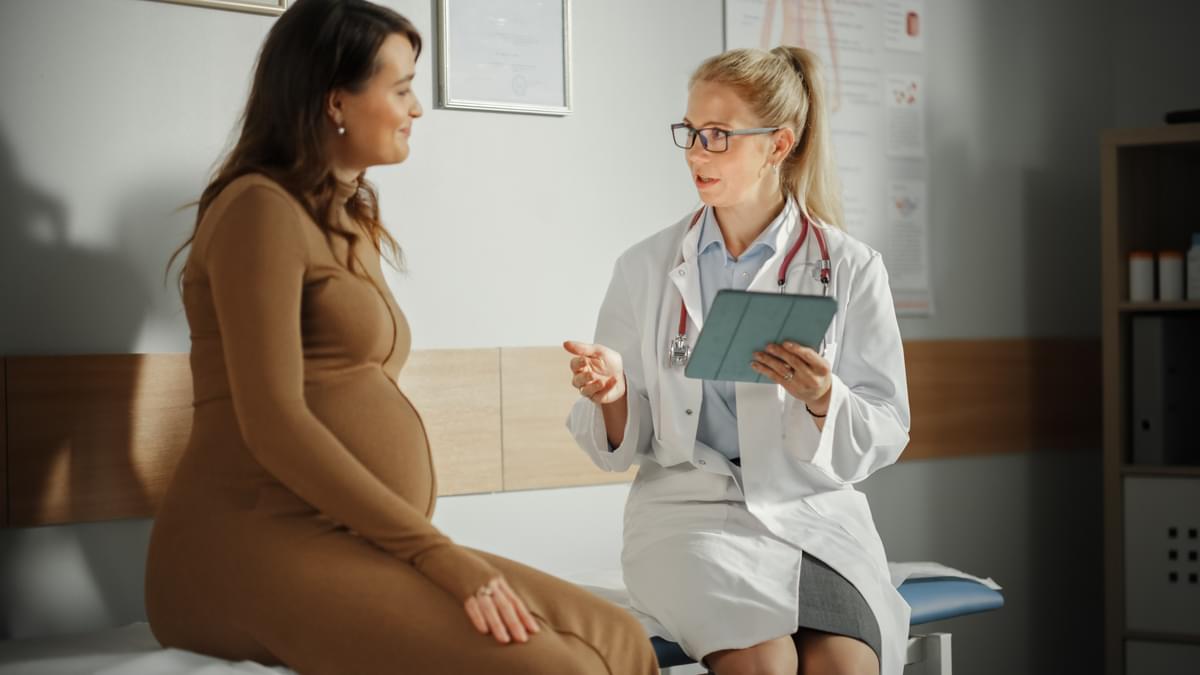 Advice centre and family guidance
Healthcare providers can also expand virtual maternity care to encompass self-serve guidance and advice resources, as seen in the iPana Maternity solution. This enables women to perform independent research and seek answers to their questions outside the clinical environment. By ensuring access to FAQs, information on pregnancy and details concerning foetus development, healthcare providers provide expectant mothers with a useful resource and ease the pressure on maternity services.
When integrated into a platform that also acts as a maternity EHR system, this functionality helps women better understand their care. Omda iPana Maternity also incorporates other valuable features, such as calendars, to keep track of appointments. While the primary benefit of integrated maternity personal electronic health records is improved access to real-time clinical data, the technology also plays a role in enhancing womens' experiences of pregnancy care.
Maternity electronic health records are joining the dots
Finally, maternity electronic health records represent significant progress towards a more holistic, joined-up view of healthcare. An increasingly large body of clinical research shows that the pregnant woman's condition and care in the early stages of pregnancy have a considerable impact on how that pregnancy develops. Early developments and interventions (or problems and complications) have repercussions that are felt further into pregnancy, early childhood and potentially later life.
With this in mind, structured data collected via Omda's maternity solutions during pregnancy could be valuable post-birth. With a maternity EHR system, a baby's pre-birth developmental data can be extracted from the health record to become the foundation on which a comprehensive, lifetime electronic record is built. In this way, digital maternity health records do not just connect the various parts of the maternity care system but link to broader, later-life healthcare provision, too.
For more information, contact our Business Area Manager for Omda Woman and Child, Lilly Marit Angermo