Comprehensive emergency response management and complete reliability
Omda CoordCom is a fully integrated 112 and emergency response platform that facilitates call-taking, communication, case handling and dispatch. An innovative end-to-end solution, it enables 112 operators to control and coordinate the entire emergency response process. Built on tried and tested technology that has accrued more than 35 years of operational use, Omda CoordCom guarantees 24/7 reliability, ensuring emergency responders always have access to the life-saving resources they require.
From receiving an incoming emergency call to dispatching the appropriate assets to the incident location, Omda CoordCom prioritises speed, efficiency and ease of communication. In environments where response time is critical, our solution facilitates quick, informed decision-making and comprehensive incident management.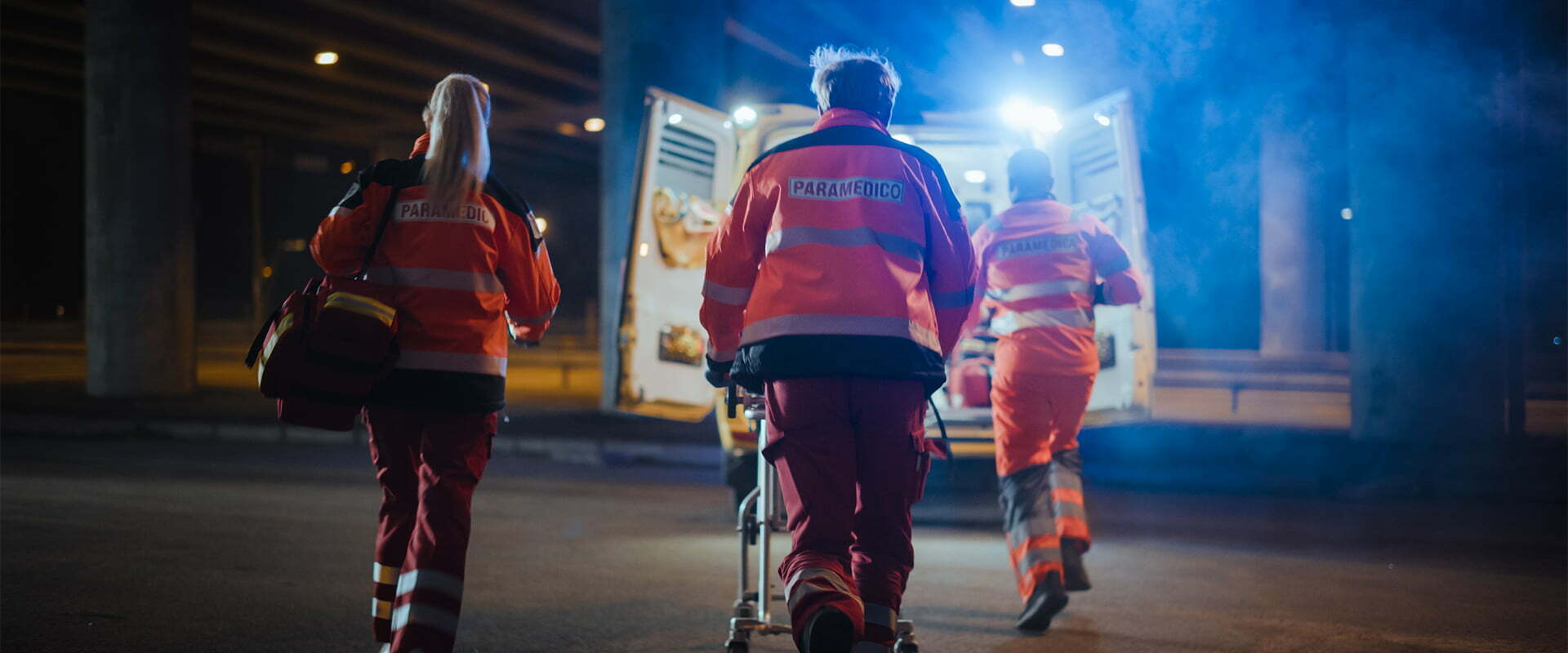 An end-to-end emergency response platform
Omda CoordCom provides medical, fire and police dispatchers with a streamlined system that encompasses all aspects of incident response and case management. Cases are created for each incoming call or sensor alarm and the system guides dispatchers through response workflows that adapt to the information received.
Multiple users can contribute to cases, provide support and access real-time information, enhancing cross-agency collaboration. Every action is recorded and logged for post-incident analysis. The solution's mapping functionality provides unparalleled geographical insight into asset availability and ensures optimal resource allocation.
A scalable and versatile solution with local adaptations
Omda CoordCom can be adapted and scaled to customer needs, ranging from single-user configurations to systems that serve hundreds of users with the highest possible level of availability. It also features integrated functions for telephony, digital radio and data communication. The solution can facilitate local adaptations and is designed to adjust and conform to regional variations in response protocols, processes and systems. Users can establish secure external APIs for their public safety services and utilise them to communicate with external information systems or create high performing web pages, web apps and mobile apps.
NG112 enabled technology for future-facing organisations
Omda CoordCom benefits from a clear development vision and the backing of a team that recognises the emergency response environment is always evolving. The solution is in-line with NG112 principles and looks beyond traditional telephony channels to incorporate video, location data, photos, images and real-time text.
This is all backed by a modern IP-based communication platform that uses SIP as its signalling standard and includes a wide range of supported codecs. The platform is designed for mission-critical communication and features several capabilities specific to the emergency response environment, such as 2.5 party conference calling to support active and passive members of conference calls.
Total reliability and a feature-rich solution
In the emergency response environment, reliability is everything. Omda CoordCom guarantees 24/7 reliability and incorporates our advanced Continuous Operation functionality. This feature enables customers to run parallel systems, ensuring maintenance and updates can be carried out in one system while the other continues to operate as normal. This zero downtime approach makes Omda CoordCom one of the most reliable systems in the emergency response sector.
The solution is further enhanced by free-seating capabilities, whereby users can login to the system and manage calls from any geographical location. Dynamic Omda CoordCom mobile navigation technology and the opportunity to leverage a lightweight web application also provide customers with a means of adapting the system to their operational needs.
Get in touch
Johan Hedensiö
He is based in the company's office in Gothenburg, Sweden.
Join our conversation to build a safer and healthier world.